Solidarité Protestante
Protestantse Solidariteit
Protestant Solidarity is at work bringing new life to villages in Rwanda. Several years ago, Musha, Rwanda, was the site of one of the worst massacres of the Rwandan genocide. Today, it is alive with hope – the hope of new growth and new life. Musha is now home to an agro-ecological program, with a nursery of fruit trees and forest species as well as an irrigation system with solar panels. The women and young people who maintain these nurseries and vegetable crops today will benefit from them for years to come.
The nursery is producing 50,000 plants and fruit tree seedlings which will be distributed to farmers, the community, and surrounding churches. Among the plants are grevilleas and calliandras, as well as seedlings of maracujas, Japanese plum trees, mandarin trees, orange trees, and avocado trees.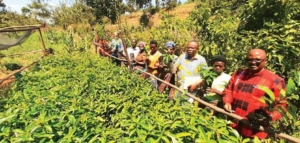 Deforestation has become a problem in a region where forests are seen as a quick and easy source of much-needed money and food. The practice of slash-and-burn agriculture and the uncontrolled cutting of trees for the production of charcoal are two main factors of large-scale deforestation in the villages. This has unfortunate consequences on the environment and on the daily lives of the people. The churches in Musha are working to help alert religious and community leaders, teachers, church members, and schoolchildren to the dangers of deforestation, and they are working to reverse the problem of deforestation by planting trees.
Planting a tree, and a fortiori a forest, is first and foremost a mark of hope and a long-term investment. It requires thought and strategy, effort and cost. Our help in this project will bring a long-term benefit to the people of Musha, and your gift will make a difference in their lives, not only today, but for generations to come.
Please send your donations to IPC's Mission account: IBAN: BE15 2100 5777 1030, BIC: GEBABEBB, with the communication "Project Creation." To receive a Belgian tax credit for direct donations to Solidarité Protestante / Protestantse Solidariteit of more than 40 €, please see Nancy Evans or David McCarthy for more information.
Thank you for your generosity!
Any questions? Contact Nancy Evans 0475/491178 or by mail nevans@skynet.be
On behalf of the IPC Missions Team, thanks for helping us be a blessing in the world!
Transfers can be made to the Fortis account: IBAN: BE15 2100 5777 1030